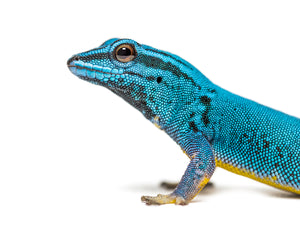 2023 Gecko Symposium at NARBC Tinley Park Reptile Show: A Must-Attend Event for Gecko Enthusiasts!
2023 Gecko Symposium
Calling all gecko enthusiasts, hobbyists, and breeders! The much-awaited 2023 Gecko Symposium is just around the corner, and this year's event promises to be bigger and better than ever before. Hosted as part of the NARBC Tinley Park Reptile Show, this symposium brings together some of the most renowned experts in the reptile world to share their knowledge and insights on various popular gecko species. From stunning Iranian Giant Leopard Geckos to the captivating Uroplatus species, this event has something to offer for everyone intrigued by the world of geckos.
The Place to Be:
The NARBC Tinley Park Reptile Show has a well-earned reputation as one of the premier reptile expos in the United States, attracting visitors from all over the country. This year, the show proudly presents the 2023 Gecko Symposium, which will take place at the heart of the event. From passionate reptile keepers to experienced breeders, attendees will have a unique opportunity to immerse themselves in a world filled with gecko-related knowledge and captivating discussions.
Thursday, October 5 2023 · 9am - 6pm CDT
Tinley Park Convention Center
18451 Convention Center Drive Tinley Park, IL 60477
Meet the Experts:
One of the main highlights of the 2023 Gecko Symposium is the lineup of esteemed experts who will grace the stage with their expertise and years of experience in the world of geckos. Here's a sneak peek into what you can expect from some of the featured speakers:
Philippe de Vosjoli: "Husbandry and Breeding of the Iranian Giant Leopard Gecko, Eublepharis angramainyu"
Philippe de Vosjoli, a well-known figure in the herpetology community, will share his insights into the husbandry and breeding of the captivating Iranian Giant Leopard Gecko. Learn about their natural habitat, unique behaviors, and the intricacies of breeding these mesmerizing geckos in captivity.

Frank Payne: "Husbandry and Breeding of Lygodactylus williamsi"
Lygodactylus williamsi, also known as the Electric Blue Day Gecko, is a striking species adored for its stunning colors and small size. Frank Payne will delve into the secrets of successfully caring for and breeding these delicate yet rewarding geckos.

Joe Hupp: "Uroplatus Species and Their Care: Past and Present"
Uroplatus, the leaf-tailed geckos, are renowned for their exceptional camouflage abilities. Joe Hupp will take us on a journey through the history of Uroplatus species' care in captivity, as well as the latest advancements in keeping these incredible geckos healthy and happy.

Justin Julander: "Knob-tailed Geckos in Nature and Captivity"
Justin Julander will captivate the audience with his expertise on knob-tailed geckos, shedding light on their natural habitat, behavior, and offering valuable advice on successfully keeping them in captivity.
Why Attend?
Attending the 2023 Gecko Symposium at the NARBC Tinley Park Reptile Show comes with a myriad of benefits for both beginners and seasoned gecko enthusiasts. Here's what you can gain from this extraordinary event:
1. Knowledge: Learn from the best in the field and gain valuable insights into the proper care, breeding techniques, and conservation of various gecko species.
2. Networking: Connect with like-minded individuals who share your passion for reptiles and geckos. Share experiences, tips, and stories that contribute to a thriving community.
3. Access to Rare Species: The NARBC Tinley Park Reptile Show is renowned for its diverse range of vendors. Take advantage of the opportunity to find unique and rare gecko species to add to your collection.
4. Q&A Sessions: Get your burning questions answered directly by the experts during interactive Q&A sessions.
5. Inspiration: Immerse yourself in the world of geckos and let the symposium inspire you to take your passion to the next level.
The 2023 Gecko Symposium at the NARBC Tinley Park Reptile Show is an event that no reptile enthusiast should miss. With a stellar lineup of experts discussing some of the most captivating gecko species, the symposium promises to be educational, interactive, and inspiring. Whether you're a seasoned keeper or a curious beginner, this event will leave you with a newfound appreciation for these mesmerizing creatures. So mark your calendars and get ready to embark on an unforgettable journey into the enchanting world of geckos!
---
1 comment