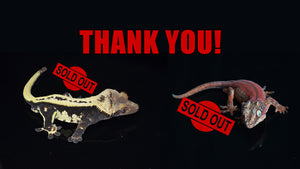 Black Friday Orders! (PLEASE READ)
Black Friday Orders
First and foremost we want to thank everyone who made a purchase on our Annual Black Friday Event! We sold out of crested and gargoyle geckos within minutes of the sale being live on the website. We wouldn't have been able to do that without the support of all of you guys! 
If you placed an order with us please keep in mind that we are trying our best to contact you at the earliest time possible to schedule your shipment. We are trying to get to everyone today (Monday 11.29.21) but we might not be able to get to everyone by the end of today. 
.
SHIPPING NOTICE (PLEASE READ)
As the cold weather starts to creep up and the delays are likely to ramp up for the holidays, we need to be extra strict with our shipping guidelines. Shipping days will be Monday-Wednesday. We can only back up our guarantees if your weather is within our temperature guidelines of 40-85F to your home and 35-90F to a facility for pick up. If temperatures are below our guidelines and you do not want to waive our guarantees then we will be happy to hold your animal until weather clears. For more information on our shipping and guarantees visit our terms page.   
---