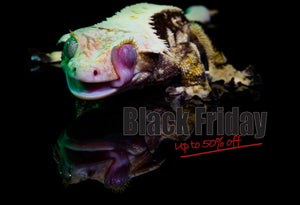 Black Friday Update! 11-18-20
Our Annual Black Friday Sale is ALMOST HERE! 
50% OFF Crested Geckos.
50% OFF Gargoyle Geckos.
25% OFF ALL Other Animals.
25% OFF ALL MERCH
ALL of these discounts will be available on FRIDAY 11-27-20 at 12 AM EST. BUT if you subscribe to our email newsletter, you will get a couple emails next week with early access coupon codes starting Monday. Each email will contain a coupon code with a bigger discount than the last, leading to Friday when we will release the BIGGEST discounts...
Make sure to subscribe to our newsletter to receive these early discounts by submitting your email at the bottom of our homepage!
Please keep in mind that we can only operate on a first come first serve basis and no discounts will be applied for payment plans with any animals during this sale.
Another thing to think about is that the shipping weather on many areas is starting to close. For those of you in colder areas, we can hold your animals until the weather clears but if you are not willing to wait please do not place an order. For us to give you our live arrival and our 7 day health guarantee the OVERNIGHT LOW temperatures must be 40F or more if we are to ship to your door. We can also ship to a local facility with our guarantees when the temperatures are at least 35F overnight.
If you guys have any questions feel free to call us at 754-317-4638 or email us at tikisgeckos@live.com
THANK YOU 
---
22 comments