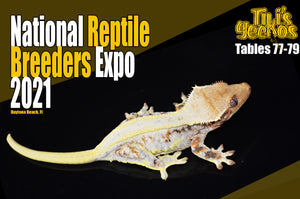 Daytona National Reptile Breeders Expo 2021
ITS THAT TIME OF THE YEAR AGAIN!!!
This will be our first show of the year, and we can't tell you how excited we are to be a part of this event! If you guys have never been before, you should know that this is the OLDEST and  LARGEST reptile meetup in Florida and it takes place at the Daytona Beach Ocean Center.  There's going to be some amazing vendors this year, including yours truly, and even crazier reptiles to check out! We would love for you guys to come over and say hi while you check out our collections, along with some of our  favorite reptiles that are available for purchase at this show only! 
Tickets are still only $15
Our table #'s will be 77-79 
Volusia County has mandated a mask requirement for all activities at the Ocean Center, so make sure to have a mask to join the party.
We hope to see you all there!  - Tikis Geckos Team 
---