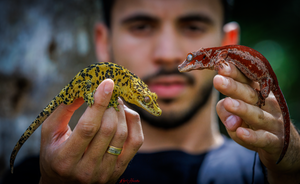 Happy New Year from TikisGeckos!
Happy New Year from TikisGeckos!
As we say goodbye to another year and look ahead to what 2023 has in store, we want to thank all of our loyal customers for their support and trust in our business. We are dedicated to providing high-quality reptiles and exceptional customer service, and we look forward to continuing to serve you in the coming year.
In the past year, we have added several new species to our collection and have made several improvements to our facilities. We are always striving to provide the best possible care for our animals and to make the shopping experience for our customers as enjoyable as possible.
We have some exciting plans for 2023, including the addition of even more rare and exotic reptiles to our collection, as well as some new products and services. Be sure to follow us on social media and check back on our website for updates and special offers.
We hope you have a happy and healthy new year, and we look forward to seeing you at TikisGeckos in the coming months. Thank you for choosing us as your reptile destination!
---