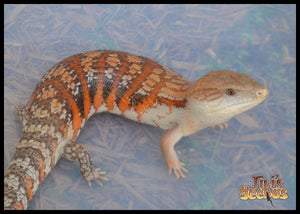 New Blue Tongue Babies available SOON!
Whatsup

Tikis Geckos

gang !? 
 We are more than happy to announce that some of our litters of baby Northern Blue Tongue Skinks have been born and we are excitingly waiting for a few more of our gravid females to pop any day now!
The first couple baby blue tongues will be released here on the website very soon, but we are writing this blog to remind you guys to make sure that you are signed up for our Tikis Geckos Newsletters where we will include dates on our next website update with new baby being listed. All you need is your email address to sign up for our newsletters. 
Our awesome Patreons will also have early access to see the available babies before they hit the website! If you would like to sign up for that early access to our baby collection, we will make sure to include the link to do so. Most babies have already started eating on their own and shedding, and we could not be more excited to show you guys what we will available very soon, SO STAY TUNED!
https://www.patreon.com/join/2353345?
-Tikis Geckos
---