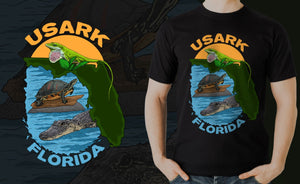 NEW USARK FLORIDA TSHIRT!
Whats up guys!
We are officially launching our new limited edition USARK FL T-Shirts! These shirts are done with DTF technology so they have a clean and crisp design with a variety of different colors in the artwork. As you may know, Our industry has been playing defense these past couple years to FWC and the new laws being made that have recently banned our tegus and iguanas. FWC has made it clear that they want to continue to ban the animals we keep as pets to "prevent another burmese python in the everglades".
We need to FIGHT and HELP donate to USARK FL to make sure that they do not keep passing these illogical laws. With every shirt bought you will be helping USARK FL  and every Floridian that keeps reptiles. Click on the link below to purchase!
-David
---