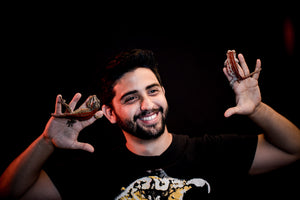 October Update! 10.12.21 (COUPON CODE INSIDE)
Whats up fam!
As we continue to face the challenges in building our new facility we can't help but feel grateful for everything that we have been through with you guys. Every little purchase (and the big ones too) has helped us get one step closer to our goals and dreams! We have nobody else to thank but all of you!
I have to be honest, some days are tougher than others and sometimes I question why am I even doing this. This move has been the toughest challenge to overcome and we haven't even gotten to the halfway point. Many more obstacles lie ahead but we are ready to take them on. As overwhelmed as I may feel, I promise that we will continue to provide you guys the best animals and the best customer service possible.
As much as I hate to bring this up, we are needing funds now more than ever. I am not asking for any handouts but if there is something you need or want, please consider getting it from us. As a way to incentivize a purchase through our website over our competitors I am giving you guys a 15% coupon.
THANKYOU15
HUGE shout out to my team that continues to pull us through! 
Manny, Daniella, Nick, Nico, Dad, Mom
More updates coming soon!
-David "Tiki"
---