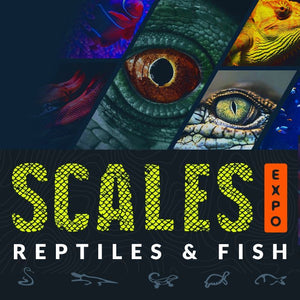 West Palm Beach Scales Expo 2023 Vendors
OCTOBER 21-22
Saturday 10-6p | Sunday 10-5p
PURCHASE YOUR TICKETS HERE:
https://scalesexpo.ticketspice.com/scales-expo-west-palm-beach 
"At Scales Reptile and Fish Expo, our mission is to provide a platform for breeders, exhibitors, and enthusiasts to come together and share their knowledge, passion, and expertise for reptiles, fish, and other exotic animals. We strive to promote responsible pet ownership, conservation, and animal welfare through education and community involvement.
Our goal is to create a fun, interactive, and educational environment where attendees of all ages and experience levels can learn about the amazing world of exotic animals. We believe that by providing a diverse selection of high-quality animals, products, and services, we can help raise awareness and inspire a new generation of animal lovers and advocates."
We are proud vendors for the first Scales Expo 2023
We will be at booth #169 - #172
We hope to see you guys there! 
---