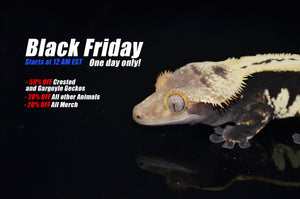 🎶 IT'S THE MOST WONDERFUL TIME OF THE YEAR 🎶
Our legendary BLACK FRIDAY SALE 2022 coming soon, are you ready for it?!
If this is your first time hearing about it, let us catch you up on what to expect!
50% OFF ALL CRESTED GECKOS 
50% OFF ALL GARGOYLE GECKOS 
20% OFF ALL OTHER SPECIES ON OUR WEBSITE
20% OFF ALL TIKISGECKOS MERCHANDISE  
Guys, we only have a sale like this ONE TIME a year and you guys go absolutely crazy for it! Do NOT miss out on the opportunity to purchase some of the most high end animals on the market! Add an animal from TikisGeckos to your collection this holiday season!
WHAT YOU NEED TO KNOW 
Placing an order on Black Friday does not mean your animal will ship out the following Monday.

We are going to withhold Black Friday shipments until the week of 12/5 unless you have a very limited shipping window which can be discussed furthermore over the phone after placing an order.

Please take into consideration that we are shipping live animals. This is the busiest time of the year for the shipping carriers and we aim to avoid any weather delays or overwhelming the shipping systems. So please bare with us if we ask to hold off your particular order from shipping right away.

We will call every customer who places an order. We will have many phone calls to follow up with but we promise to contact every single person. 
And last, but most importantly -
MAKE SURE YOU ARE SIGNED UP FOR OUR EMAIL SUBSCRIBING LIST
TO GET EARLY ACCESS DISCOUNT CODES DAYS LEADING UP TO OUR
BLACK FRIDAY SALE! 
---
1 comment