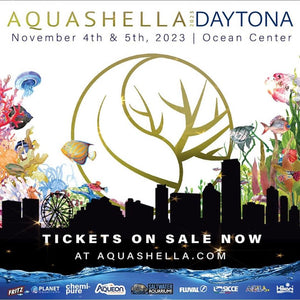 See you at AQUASHELLA
" AQUASHELLA IS AN EVENT FOR ALL AQUARIUM HOBBYISTS FROM BEGINNER TO EXPERT, OR EVEN PEOPLE WHO DON'T HAVE AN AQUARIUM WHO WANT TO EXPERIENCE THE WONDERS OF AQUARIUMS, AND EXOTIC PETS."
"Aquashella proudly displays the largest collection of top tier aquatic vendors and brands anywhere in the country. Our line-up includes the best of Freshwater, Saltwater, Reptiles, Aquatic Art and more..."
Guess who falls under the "and more" category? TIKISGECKOS!
For the first time ever, we are proud vendors of the upcoming 2023 Aquashella Show in Daytona, FL. We hope to see you guys there!
NOVEMBER 4th & 5th. @ OCEAN CENTER 
Buy your tickets here ----> https://aquashella.com/daytona/#venue
---