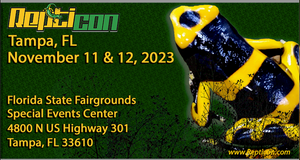 See you guys at TAMPA REPTICON
Repticon, a recognized leader in hosting reptile and exotic animal expos throughout the United States, hosts an outstanding mixture of vendors, breeders, and educators. This family-oriented, fun-filled event offers guests the opportunity to learn about animals not normally seen in local pet stores. Breeder-vendors are always willing to teach; and, throughout the event, there will be seminars on animal-related topics by experts in the field of herpetology.
Guests can also shop for a new family pet among the hundreds of reptiles, amphibians, invertebrates, spiders, and small exotic animals. Repticon is also the perfect place for them to get merchandise, cages, supplies, and both live and frozen feeders, as well as to get expert advice about caring for their new household member. Many of our vendors allow live interactions with the pets during visits to their booth. Don't forget to check out the amazing USARKFL Auction taking place after the show as well! Make sure to purchase your tickets from the link below, and we look forward to seeing you there! 
   -----------> https://repticon.com/tickets/ <------------
---