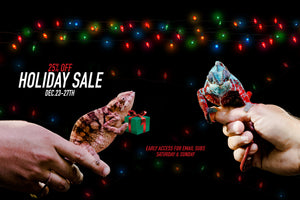 The Most Wonderful Time of the Year!!!
Happy Holidays ya filthy animals!
As this year comes to an end, we are excited to bring you the last big sale of the year! This year we are extending the holiday sale for a whole WEEK! The sale officially starts on Monday December 23rd and ends on Friday December 27th....HOWEVER if you are subscribed to our email newsletter, you will get an early access coupon code :)
Early Access starts in the late afternoon on Saturday all the way through Sunday.
Everything on the website will be 25% OFF so no coupon codes are needed on the 23-27th. Please make sure you understand that ALL HOLIDAY SALE ORDERS WILL NOT SHIP UNTIL AFTER CHRISTMAS. Due to the holidays we are not shipping in case of any delays..
Happy Holidays
-Tikisgeckos Team
---
1 comment