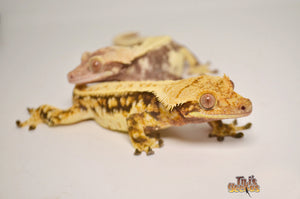 What's new to our Tikis Geckos website
Whats Up Freaks?!
 We hope everyone has been been staying healthy and enjoying the new year.  We are excited to have so much planned for you guys these next upcoming months! With your continued support, we are grateful to be going into 2021 with new uploads to the site with some awesome animals for you to check out and new goals for us to hit!
          What are some things to get excited about with Tikis Geckos?!
New Crested Geckos being uploaded all month long
New Gargoyle babies will be uploaded the first weekend of February
New Leachies have been added to the site for you to check out
New Ball Pythons are available now 
New critters will be debuting on our site for sale 
MORE YOUTUBE VIDEOS STARTING THIS WEEKEND!!!!!!!!
Always feel free to contact us through email, phone, any of our social media
platforms, etc. with any questions you may have. Make sure you are signed up
for our email newsletter through our website as well! We can't thank you guys
enough for helping us continue to do what we love. Lets make this year even
better than the last. Stay tuned for some really crazy stuff!
                                                          -TIKIS GECKOS GANG 
---
1 comment